Seafood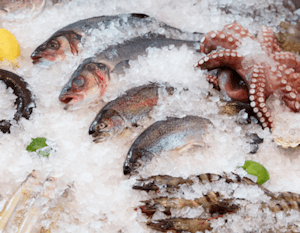 As perishable specialists, Flegenheimer has assisted clients with the importation of every type of seafood imaginable. This includes all types of fish, both wild and aquaculture farmed, from crustaceans and mollusks to fresh, frozen, smoked, cooked, dried, breaded, processed and in meals. While some of these require special documentation and are subject to special rules with different Government agencies like FDA, Fish & Wildlife, USDA and NOAA, all require special handling and knowledge.  A Flegenheimer specialist will guide you through all of these special requirements.
Here is a list of some of the seafood we have dealt with:
Salmon
Trout
Shrimp
Tuna
Albacore
Bluefin
Yellowfin
Bigeye
Skipjack
Tilapia
Lobster
Langostinos
Seabass
Seabream
Toothfish (Dissostichus spp)
Swordfish
Shark
Snapper Grouper
Pike
Pickerel
Perch
Shad
Sturgeon
Mahi Mahi (dolphin fish)
Eel
Basa
Pangasius spp
Swai
Catfish
Mackerel
Cod
Sardines
Herring
Cobia
Halibut
Sole
Flounder
Turbot
Clams
Mussels
Oysters
Clams
Cockles
Limpets
Conch
Abalone
Scallops
Squid
Octopus
Cuttlefish
Sea Cucumber
Sea Urchin
Frogs Legs
Caviar
Crab
Crab Cakes
Surimi
Fish Cakes
Fish Balls
Contact us for help with your seafood shipments.